As a student studying in an international school in Delhi, Mee faced tough times when her parents could not pay the school fees on time. Her father was adamant on providing us good English education inspite of his humble financial condition.
Little did he know that it was equally tough for Mee to keep up with other students in her class. They were rich, confident and often bully. To avoid any confrontations, Mee spent most of her free time in library and Art Room. Mee collected stories from library books and scraps of colourful paper cut-aways from Art room. She could not afford to buy any of those papers on her own.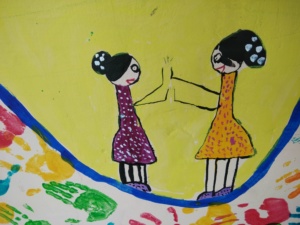 For years Mee collected and created art on these scarps of beautiful papers.
Noticing her interest in art, the young art teacher gave her a used port-folio file of blue color. Soon she was adopted by her as her student though Mee was never an art student officially. Mee still has that port-folio file with scraps of papers collected during her school time.
Last week ARTOLOGUE painted with nearly 100 students from poor families in Gannor village, Haryana. It is not a school per say but is more like a home where these kids, who cannot afford to study in government school or private school due to financial constrain or the rigid educational system, come to study here.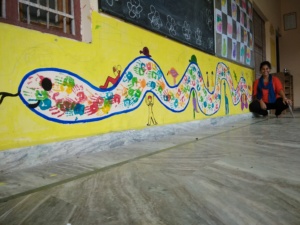 These kids are taught by a bunch of loving people who tenderly direct them towards knowledge through different experiments and processes.
The kids were super excited to paint. Ageing between 3 to 15 years, they nearly fell over Mee trying to look at the color bottles and brushes.
In general it is a tough task to satisfy the younger lot of kids while painting on wall. But Jey is now an expert in this art. He very patiently helped these toddlers hand print on wall for as many times as they wanted on a suffocating hot-humid afternoon.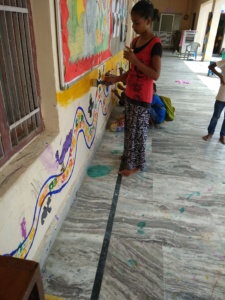 They created a huge snake on their school wall with hand prints. Mee made tiny human and animal figures on and around the snake to create a sense of HARMONY that was so evident at the Umang Pathshala between human and nature and between children who are so different from each other.
A subject like Harmony is difficult to explain even to the grown up in todays time. Given the kind of hatred we nurse for every one who is not 'like-me', it seemed an apt subject for Mee & Jey to work with kids.
Art is not just about beauty. It has a much larger purpose. Bruno Munari wrote in his book- Art has to be aesthetic, utilitarian and accessible. That is the reason why Artologue's Art is different from Public arts that you see beautifying the flyovers and metro-stations.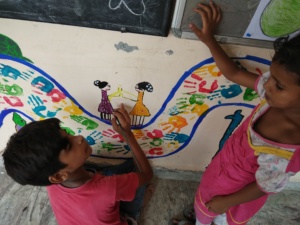 The art that we create leaves an imprint on the minds and souls of these kids who will be our future. These arts are hidden form public gaze but they are close to these young dreamers who created them with their own tiny hands.
Today they enjoyed it as a process, tomorrow this process will boost their dreams, aspirations and self-confidence.
It is time to give back to society what we have got from generous hearts when we needed it the most.
An ode to all the wonderful teachers and friends who shaped Mee&Jey and idea of ARTOLOGUE directly or indirectly.