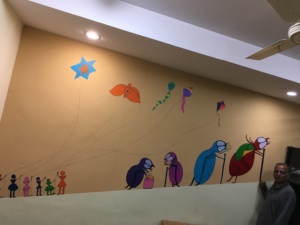 It was a meeting which was rescheduled many times and a distance of around 40 kilometres took us more than a year to cover.
Alka Kaushik, who came to know about Artologue through Facebook and Abhinav Singh invited us long back but since Alka is also a traveller, we couldn't match a date to meet.
But then we met in 2017 and did what we wanted to do.
On a very chilly day in January we travelled on our Kesariya (500 CC Royal enfield) to Vasundhara to meet and paint with the Kaushik family.
We got a crunchy-munchy welcome (actually we started eating snack the moment we reached) and we chatted for a while and came to know the fascinating love story of Alka and Mukesh.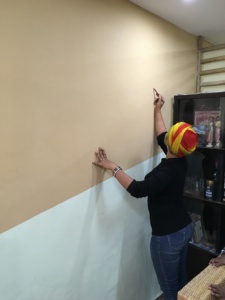 In the world of social media who can imagine that two people can fall in love through handwritten letters but then there was a world before computers and social media.
Alka and Mukesh belong to that world when writing letters used to be a passion and they loved each other through the letters. Alka who got a poem published in a magazine and Mukesh who read the poem, started writing letters to Alka.
After exchange of more than 50 letters they met, fall in love and decided to marry. Family resisted for a bit but then everything fall in place slowly.
This has happened more than twenty years ago but you can feel the love between Mukesh and Alka even now, just by looking at them. They are so fond of each other now which makes one believe in the power of love and letters.
Alka is now on a sabbatical from her job and travelling and writing in last few years. On the other hand Mukesh is working as a journalist and tries his hands in writing stories as well.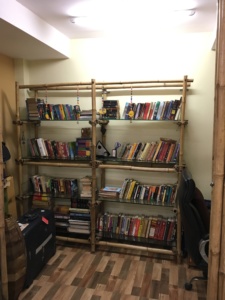 This fascinating couple also designed and build their home together. Their book rack is a piece of art based on a design from somewhere in north east and handcrafted by Mukesh himself.
They have two kids as well. Elder girl is married and settled and the young boy is studying. We asked about their interests and we got to know that their daughter is an avid reader and son plays drums.
So after hearing their stories we decided to make a collage of the family in the form of ants. Ants is a motif in which Meenakshi is working these days.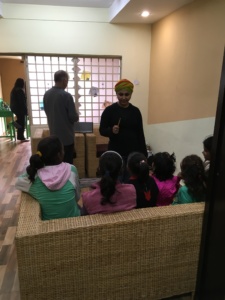 We gave a brief about what we are going to paint to the couple and they smiled.
Alka also invited the kids of her domestic help to come and paint with us. They were quite a few in numbers and all enthusiastic about painting.
We got all of them to paint many small figures flying kites before we started the ants. Many friends of Alka and Mukesh also came to the house and got involved in painting.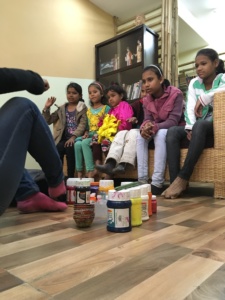 Meenakshi made four ants….the leader is a travelling ant, next one was an ant who writes…third one was a reader and the last one was a drummer All of them walking on an upward path of life led by the traveller.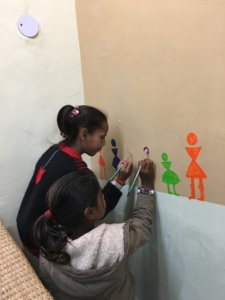 In between Alka, Mukesh and their dear friends fed us, talked to us, helped us in painting and we spend the day like a party. By evening the painting started taking its final shape.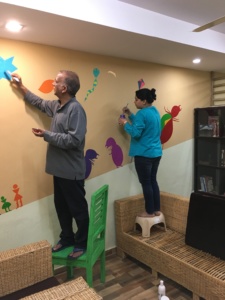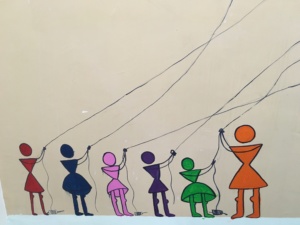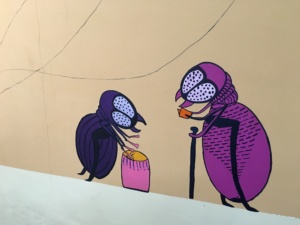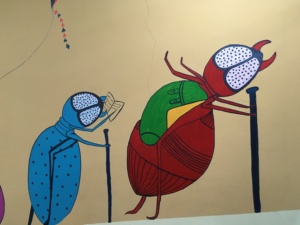 Though people filled the big parts of the piece, they had no idea what Meenakshi is going to do with them. When Meenakshi picked up the brush and started making delicate designs on the ants, everyone stopped to see the intricate work Meenakshi can do.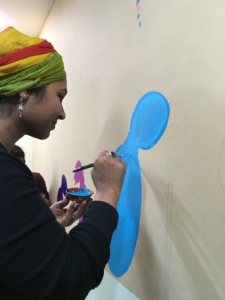 And then poured the heartfelt greetings. All of them felt overwhelmed with the final outcome on the wall. Soon the pictures started getting circulated on the friends Whatsapp groups and we got to know the instant reactions.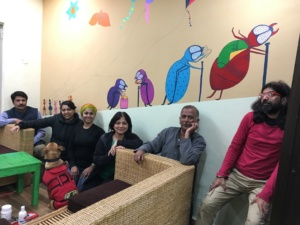 It was late in the evening but we had a lovely dinner with them and came back with the feeling of going again to the lovely place Alka and Mukesh had built in Vasundhara.