#ProjectMemory is an ongoing artwork where we collect memory (in the form of objects) from common people and make an artwork combining all of them.
Collecting objects has been a fascination for Jey (Jey Sushil) and fabrics are a favourite prop for Mee (Meenakshi J.) to do any artwork. These tow passions of Mee and Jey came together in the #ProjectMemory.
We have been thinking about doing something with the objects we have collected in our travels in last five years and we had done a show in 2015 with the name SharedMemoirs but #ProjectMemory is one step ahead of that.
While its an ongoing process Sahitya kala parishad of Delhi government invited artists to do an installation in the Central park, Connaught place, New Delhi from 3rd to 8th of March 2017. Meenakshi was one of the selected artist and we decided to start the #ProjectMemory from there only.
We invited people on Facebook to contribute their Memories/Objects for the artwork and we also used some of our memories to make the artwork.
Many people contributed objects and narrated the story of their memory to us and also explained whey they are donating that particular thing to us.
In future Our plan is to exhibit this work with Shared memoirs and have the audio of the stories playing along. Here are the story of the objects/memories narrated by the people who donated them for the artwork.
Radhika Sharma– The piece of cloth which I am giving is the first thing I tie-dyed on my own when I was in class VI. The piece is around 15 years Old and I hope it will be of some use. It was a white piece of cloth which I tie-dyed myself with orange colour.
Kaushiky Kashyap– I am giving an art piece which I bought during a school trip. I use to think that my parents do not give permission to go outside. In class X I asked them for the permission to go for the school trip and they gave the permission. That was the first time I realised that I can talk to them and it was a misnomer that they are rigid. The other piece of cloth is related to my friend whom I am going to marry. I met him wearing this piece of cloth.
Shobha Prabhakar– I am giving a peach shawl. In 2008 my aunt (neighbour) gave this to me when she came from Shimla. She offered me two shawls (a sea green and another peach). I was confused so asked the son of the aunt Rajat. He picked the peach coloured shawl for me. In 2016 Rajat died of a silent heart attack. The peach color signifies Rajat for me.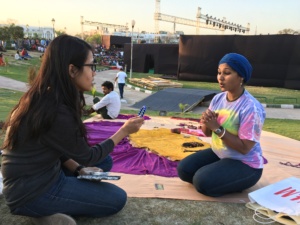 Mahima Bharti– I am giving a two bracelet and one necklace and a purse.. When my brother when to South africa, he bought the bracelet for me.This was my first gift from foreign country. Another bracelet is given to me by my friend when I was coming to Delhi. The necklace is the  last gift from my grandfather who bought it in Pushkar. He is no more.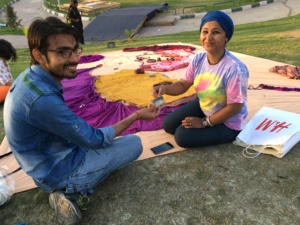 Himachal Rajput– I am from Muzaffarnagar and came to Delhi to donate something for #ProjectMemory. I am giving my first I card of my college. It was a cherished memory for me because college is something which is close to my heart. I think you will take care of this in a much better way than me.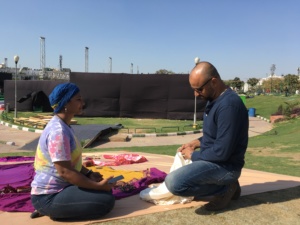 Rajiv Singh– I am giving the Dhoti (an attire) which I wore in my marriage. I was a very superstitious man. I had this feeling that I have to marry in a white Dhoti. We had to take a loan and I was not getting a nice dhoti in my budget. so I bought the dhoti from one market and got it designed from somewhere else. The dhoti is white but with a nice design. This is a very unique memory. Though now I think it was stupid….but its a unique part of my life.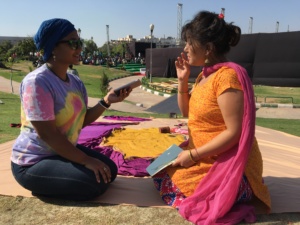 Preeti– I am donating a leaf to the #ProjectMemory. This leaf is given to me by one of my friend in class VIIIth. Now I am 34 so this leaf is at least 22 years old. Now I am connected to that friend on Facebook and when I told her about the leaf she was also surprised.
Camy Thomas– I am giving a study table. Though I didn't want to study but it was like a detachable seat. I never wanted to carry it with me but somehow it stuck to me. we shifted more than ten houses but the study table moved with me. I never studied course books but novels. It was like a mask for me. Mother used to think that I am studying but I was doing whatever I wanted to do with that detachable seat. so I am donating this study table to you.
Swati Sharma– I have donated quite a few things. I was in new york and I was depressed. I bought some colouring books and coloured about 16 pages of that. I am giving one of them. I also have the experience of being the other women and I am giving one of those gifts I received then.
Sushil Chhoker– This is one of the envelopes in which one of my favourite author use to send me his books. He was like my Guru and I use to store all those envelopes whenever he sent me any book. This is one of them. I use to call him whenever I am depressed and he always talked to him. He never said he was busy. He is no more. His name was Charandas Siddhu. he was one of the very famous writer from Punjab and he got Sahitya academy for one of his books.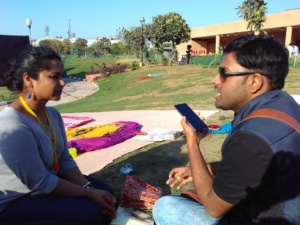 Aditya Shukla– I read about #projectmemory on Facebook. I am giving a shirt which is given to me by a stranger. I knew him through Facebook. its a nice shirt, I like it but when I wear people says that it is very artistic and unlike me. The other thing is this small plastic bag from London where I bought gifts from Sherlock homes museum. I couldn't find the gifts so I am giving you this bag and it has my first ATM card and the ticket from local London travel. all these things are very dear to me.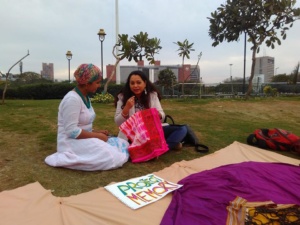 Arti Gupta– Iam gifting a chunni for #projectmemory. When I think about Meenakshi, I remember about the day when we met and did a shopping in Sarojini nagar. That was the moment when I got connected with Meenakshi. She was explaining about colours and I had a feeling that we have a connection. this dupatta reminds me of that connection.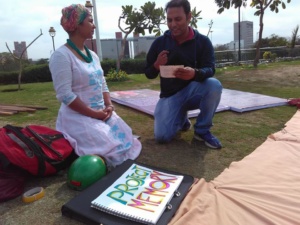 Amit kumar– When I came to Delhi for the first time. I was scared. it was difficult for me that no one knew me in the big city. When I went back to my home, I decided that I will never come to Delhi but then I got a job in Delhi and this is my first Identity card which gave me some sense of belonging in the first city. It got expired in three months but I kept it with me since 2012. Now I am giving it for #projectmemory.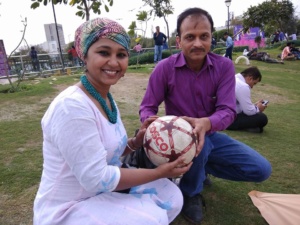 Kishore Kumar– I am here with a football to donate. My son is in class IXth and he is fanatic about football. I told him that he had to study till class XIIth and we decided that if he gets a good score I will send him for football coaching. I told him about #projectmemory and he said that rather than throwing the football it would be better if it goes to the project.
Ashok Adepal– Father in law of Ashok Adepal- This is Batua from my marriage. Groom carry this kind of small but highly designer batua when he comes to marry the bride. They keep some dry fruits and areca nut (beetle nut) in these tiny bags and give it to their sister and brother in laws. In our time, marriages took place at young ages so they were all like kids. Now my kids are all married and my memories are of no use to them. I am donating it you as my last reminiscence of my marriage.
Hindola– Mother-in-law (of Ashok Adepal)- This is a hindola from my daughter's marriage. There is a ritual in which women carry decorated pitchers full of water and other auspicious objects. This hindola is used as the base to carry pitcher on head. It is a round ring with lot of designer fringes hanging on the back of the head and body.
Sangeeta ji– This ochre yellow cotton chunni is one of the unfinished decorative thing from my marriage time. Brides in our time used to hand create or decorate fabrics to be gifted to her in-laws and used by the bride herself. I want to give it you because now even my children are married and we were throwing away a lot of older stuff. I could not throw this one as it is one piece of fabric I have kept for over 30 years. (2015- Art Walle Log show).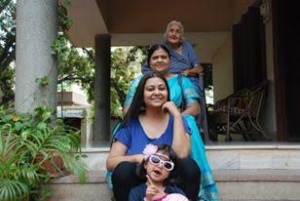 Pankaj Dubey– I know #jeycouple since the beginning of artologue and when we discussed the #projectmemory I decided to give a photo of my wife, her grandmother, mother and her daughter. four generations in her family. I relate memories with women and it was my way of connecting to the #projectmemory.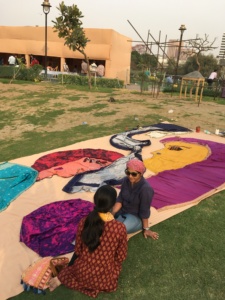 Kumari Sneha– This necklace is my first purchase from my first solo journey to hills ( Haridwar). I bought it from an aghori baba crafting and selling these hand made jewellery. He initially refused to sell me saying that this should be bought by some tall an broad American lady and not a tiny lanky Indian girl. However he sold it to me and told me that it is crafted with wood from a pyre and animal bone. It marks my first step towards my independence and self confidence as a woman from Bihar in Delhi.